Here's the basics:
1: Highlight the "Build Custom" menu and click "License Modules." Browse the website and add any module that you desire to have in your subliminal that fits your goals. You can include up to 20 modules in your custom title, although those who are new to running subliminals should consider limiting themselves to 10 or less. You must license a module before you can use it in a build. The build page will list ALL of the store modules via dropdown, but if you haven't licensed a module in the past, or added it your cart when checking out, your order will be placed on hold.
2: As of March 12, 2022, all customs will be built in the new, revolutionary, 15-minute Zero Point format. Please read the following articles for more information.
Note: Once you've licensed a module, you can use it in as many builds as you like. You won't have to re-license a module to use it in multiple custom subliminals.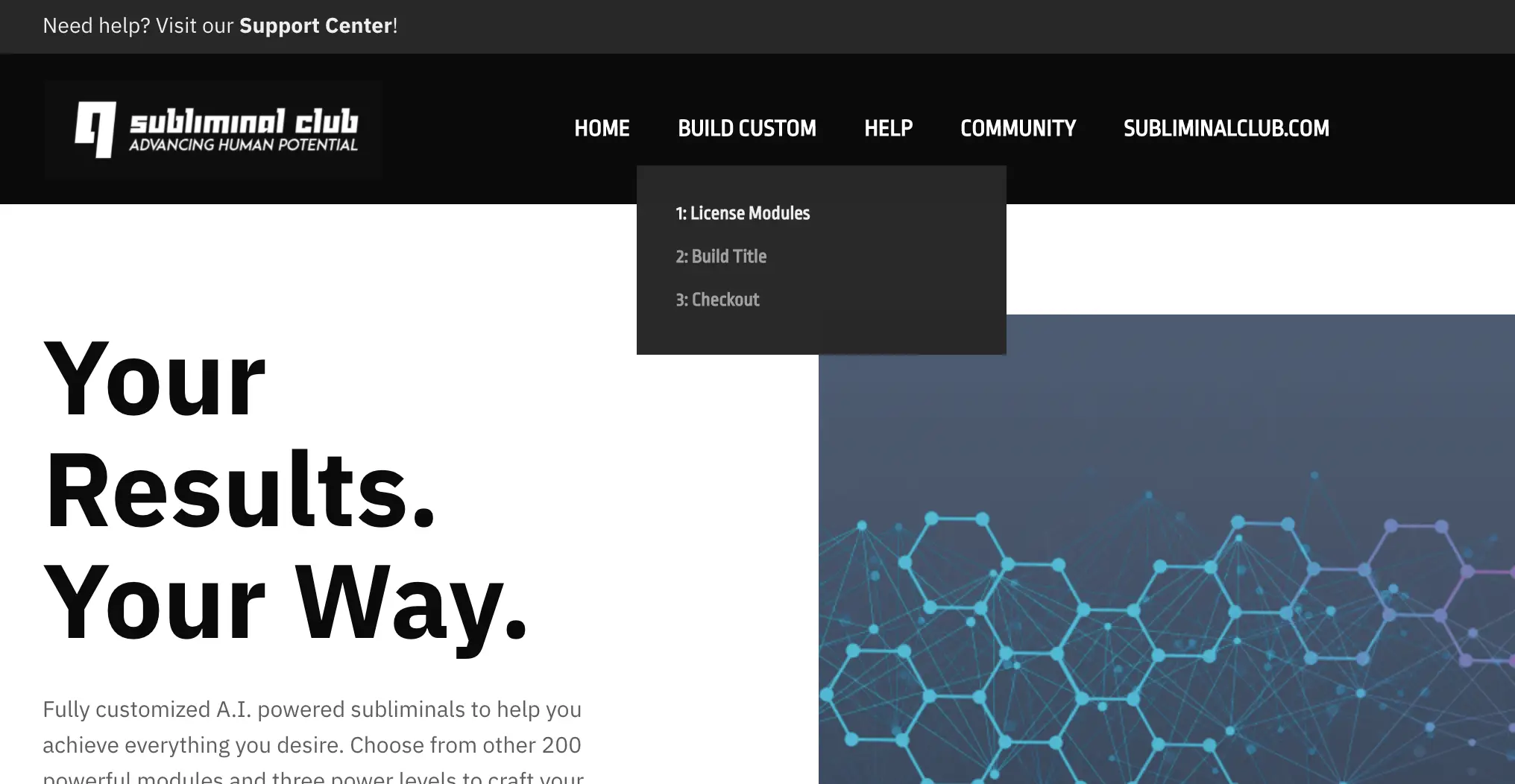 3: Once you've selected your desired modules, click the "Build Title" menu item. It's located under the "Build Custom" subheading. Fill out the form with your desired options.
Name: Enter the name that you MOST identify with. For most people, this is just your first name. Some may prefer a nickname, but please be careful — make sure this is a name you strongly identify with. Your surname / last name is not necessary.
Build Type: Choose between Zero Point Standard, Zero Point Terminus and Zero Point Terminus Squared. PLEASE NOTE: Terminus and Terminus Squared and extremely potent subliminal build methods. If you are new to running our subliminal titles, PLEASE use Zero Point Standard. It's easy to use and extremely effective. Terminus and Terminus Squared are for advanced users and are considered experimental.
Delivery Speed: Standard delivery speed is 3-5 business days. Our business hours are 9a-6p M-F Eastern Standard Time. You may receive your order on a weekend depending on workload. Expedited Delivery is 1 day delivery, GUARANTEED. Weekends included. Please note that your expedited order will be delivered by the end of the following day. For example, if you place your order at 2pm Monday EST, it will be delivered by the END of Tuesday, EST.
4: Select your modules via dropdown. Remember, you MUST license the individual modules in a separate email, or include them in the cart for this particular build. If you're caught including modules you haven't licensed, you may lose access to the Q Custom store.
5: Your custom subliminal will be delivered via email from "quintessence@subliminalclub.com" within 3-5 business days unless you choose the expedited delivery option.
Click here to visit the Q Custom store. If you need more help, please feel free to submit a ticket, or ask our friendly community at Subliminal Results.